2018 - Buffalo Bills Alumni Weekend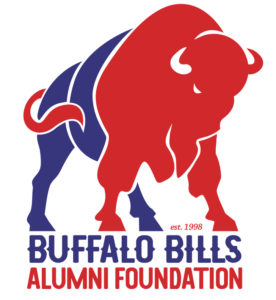 For Further Information:
Contact: Booker Edgerson
716-867-7837 or
JRC Promotions, Joe Ciffa
716-583-4710
FOR IMMEDIATE RELEASE:
Buffalo Bills Alumni Foundation's fabulous Weekend of Events –Extravaganza Set – October 5, 6 and 7 during Alumni Weekend
Nearly 50 former Buffalo Bills will get together to support the Buffalo Bills Alumni Foundation's biggest fundraiser of the year. Three day event is most unique and acclaimed NFL Alumni event in the league.
September 27, 2018…Buffalo, NY…The Buffalo Bills Alumni Foundation has the reputation around NFL alumni organizations as the model NFL Alumni group and for good reason.
The three- day Buffalo Bills Alumni Weekend of Events is unique to the Buffalo Bills Alumni Foundation, since no other NFL Alumni organization has created such an extravaganza as the Bills Alumni Weekend.
Last year, as a result of Alumni weekend, the Buffalo Bills Alumni Foundation was able to donate over $90,000 to local charities. To date, over 2.5 million dollars has been donated by the Bills Alumni Foundation.
Here's the schedule for the 2018 Bills Alumni Weekend of Events;
VIP GALA - FRIDAY, OCT. 5, @ 6 PM- 10 PM: This will be the event of the year at the Seneca Niagara Events Center in the Seneca Niagara Resort & Casino in Niagara Falls, NY. Fabulous food and drinks all night long!
CHARITY CELEBRITY GOLF CLASSIC - SATURDAY, OCT. 6 @ 9 AM: The beautiful Seneca Hickory Stick Golf Club in Lewiston, NY will host this outstanding event where every foursome golfs with a celebrity.
VIP POST GAME PARTY - SUNDAY, OCT. 7 @ 5:30 PM-7:30 PM. – The Grand Ballroom of the Adam's Mark Hotel in downtown Buffalo will host a fabulous Bills Post Game bash for sponsors, fans and players. There will be great food and drink, FREE prize drawings, autographs and photos with your favorite Bills Alumni. Guests will be able to watch the second NFL game on two giant screens and get a personal analysis of the Bills game from the pros.
"The entire purpose of the Buffalo Bills Alumni Weekend is to raise funds so that we can support several local charities who depend on our donation to their organization" explained Buffalo Bills Alumni Foundation President and Bills Wall of Famer Booker Edgerson". "This year's Weekend of Event is jammed packed with excitement and we encourage the public to come out and join us in this fun filled weekend" added Edgerson.
The list of Buffalo Bills Alumni and other celebrities who are expected to attend this year's Weekend of Events include some of the greatest players in Bills history. They are; Al Bemiller, Mark Brammer, Butch Byrd, Joe Cribbs, Joe DeLamielleure, Booker Edgerson, Charley Ferguson, Will Fowler, Tony Greene, Harry Jacobs, Ken Jones, Frank Lewis, Reggie McKenzie, Mike McBath, Jeff Nixon, Marlo Perry, Lou Piccone, Ed Rutkowski, Kurt Schulz, Billy Shaw, Mike Stratton, David White, Chris Williams, Tim Smiley, Carl Byrum, Ron McDole, Chris Keating, Paul Guidry, Bob Schmidt, Roland Hooks, J.D. Hill, Jerry Butler, James Harris, Greg Bell, Ed O'Neil, Keith O'Neil, John Witkowski, Joe Bock, Bob Dugan, Christian Gaddis, Don Luce, Danny Gare ,Terry Martin, Ed Abramoski, Jim McNally, Ernie DiGregorio and Mrs. Ralph C. Wilson.
Sponsorships, ticket sales to the Alumni Weekend and information can be obtained by calling JRC Promotions at 716-694-7867 or on our website at www.buffalobillsalumni.com.
The Buffalo Bills Alumni Foundation was founded in 1998 and is comprised of past Bills players who have left an imprint on society during their football careers and want to continue molding society in a positive manner. Not only have they changed the game, but they have touched and shaped Buffalo as we know it today. The Bills Alumni Foundation has given over $2.5 million to local Western New York charities over the past 20 years.
###