2019 - Buffalo Bills Alumni Weekend
Inaugural Ralph C. Wilson Jr. Memorial Golf Classic Highlights the Buffalo Bills Alumni Foundation's fabulous Weekend of Events
Mary Wilson to participate at VIP Gala and Golf Tournament. Nearly 50 former Buffalo Bills will get together to support the Buffalo Bills Alumni Foundation's biggest fundraiser of the year.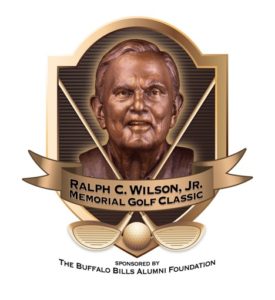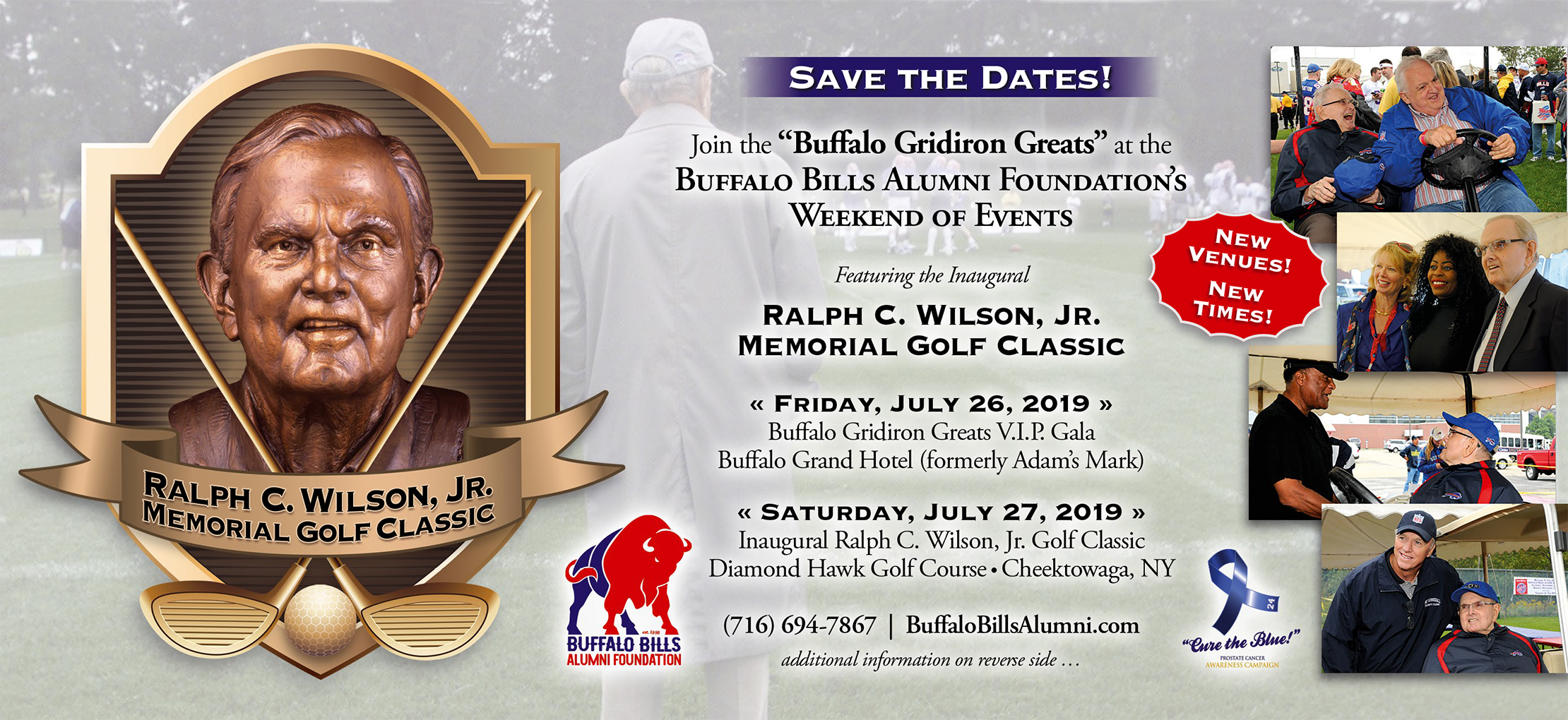 The Buffalo Bills Alumni Foundation is so very proud to officially announce that they will host the Inaugural Ralph C. Wilson, Jr. Memorial Golf Classic as part of the Buffalo Bills alumni Foundation's annual Weekend of Events on July 26 and 27, 2019.
"This year the Buffalo Bills Alumni Foundation's Weekend of Events will take on a very significant meaning as we will be celebrating and honoring the legacy of the founder and original owner of the Buffalo Bills, Ralph C. Wilson, Jr." stated Buffalo Bills Alumni Foundation President and Bills Wall of Famer Booker Edgerson
Ralph Wilson was truly one of the most prominent figures in the history of Buffalo. Not only for what he did to better our community as owner of the Buffalo Bills but even today as Western New York continues to benefit greatly from the Ralph C. Wilson, Jr. Foundation.
"We are honored that Mary Wilson is allowing us this great privilege and the fact that she will be golfing in the tournament and also attending the VIP Gala" explained Edgerson.
At our Buffalo Gridiron Greats VIP Gala on Friday, July 26, the evening prior to the Golf Classic, several Bills Alumni will be sharing their greatest memory of playing for Mr. Wilson. This is really going to be something special!!
The Buffalo Bills Alumni has the reputation around NFL alumni organizations as the model NFL Alumni group and for good reason. The Buffalo Bills Alumni Weekend of Events is unique to the Buffalo Bills Alumni
Foundation, since no other NFL Alumni organization has created such an extravaganza as the Bills Alumni Weekend.
"Our Alumni Weekend is also unique in the fact that our events are open to the public. Anyone can attend our VIP Gala or golf in our tournament "said Edgerson.
Here's the schedule for the 2019 Bills Alumni Weekend of Events;
VIP GALA - FRIDAY, JULY 26, @ 6 PM- 10 PM: This will be the event of the year at the Buffalo Grand Hotel in downtown Buffalo. Fabulous food and drinks all night long! One of a kind silent auction items, outstanding live auction, basket raffles, live entertainment, exciting program and much more highlight the VIP Gala.
RALPH C.WILSON, JR. MEMORIAL GOLF CLASSIC - SATURDAY, JULY 27 @ 9 AM: The beautiful Diamond Hawk Golf Course in Cheektowaga, NYS will host this outstanding event where every foursome golfs with a celebrity.
"The entire purpose of the Buffalo Bills Alumni Weekend is to raise funds so that we can support local charities that depend on our donation to their organization" explained Edgerson". "This year's Weekend of Event is jammed packed with excitement and we encourage the public to come out and join us in this fun filled weekend" added Edgerson.
The list of Buffalo Bills Alumni and other celebrities who are expected to attend this year's Weekend of Events include some of the greatest players in Bills history along with other celebrities. They are;
Mary Wilson, Al Bemiller, Mark Brammer, Butch Byrd, Joe Cribbs, Joe DeLamielleure, Booker Edgerson, Charley Ferguson, Will Fowler, Tony Greene, Harry Jacobs, Ken Jones, Reggie McKenzie, Mike McBath, Jeff Nixon, Marlo Perry, Lou Piccone, Ed Rutkowski, Kurt Schulz, Billy Shaw, Mike Stratton, David White, Chris Williams, Tim Smiley, Carl Byrum,, Bob Schmidt, J.D. Hill, Jerry Butler, Bill Polian, Daryle Lamonica, Robert James, Pete Metzelaars, John Davis, Fred Jackson, Steve Tasker, Ed O'Neil, Keith O'Neil, John Witkowski, Joe Bock, Bob Dugan, Christian Gaddis, Ed Abramoski, Jim McNally, Marcel Dionne, Ernie DiGregorio and Rene Robert.
Sponsorships, ticket sales to the Alumni Weekend and information can be obtained by calling JRC Promotions at 716-694-7867.
The Buffalo Bills Alumni Foundation was founded in 1998 and is comprised of past Bills players who have left an imprint on society during their football careers and want to continue molding society in a positive manner. Not only have they changed the game, but they have touched and shaped Buffalo as we know it today. The Bills Alumni Foundation has given over $2.5 million to local Western New York charities over the past 20 years.