2019 - Chill 443 in Niagara Falls, NY teams
up with the Buffalo Bills Alumni
Chill 443 in Niagara Falls, NY teams up with the Buffalo Bills Alumni Foundation in support of the "Cure the Blue" Prostate Cancer Awareness Initiative. Will host "Bills Alumni Tailgate Party" Fundraiser during Bills vs. Tennessee Titans Game on October 6
Nine Buffalo Bills Alumni To Attend the Cure the Blue Fundraiser
Niagara Falls, NY…September23, 2019… Buffalo Bills Alumni Foundation President and Wall of Famer Booker Edgerson announced today that Chill 443 Restaurant, located in the reappointed lobby of the Wyndham Garden Hotel, 443 Main Street, Niagara Falls, NY, will be hosting a special Buffalo Bills Alumni Tailgate Party to benefit the Alumni's "Cure the Blue" Prostate Cancer awareness, education and research initiative on Sunday, October 6, 2019 during the Bills vs. Tennessee Titans game.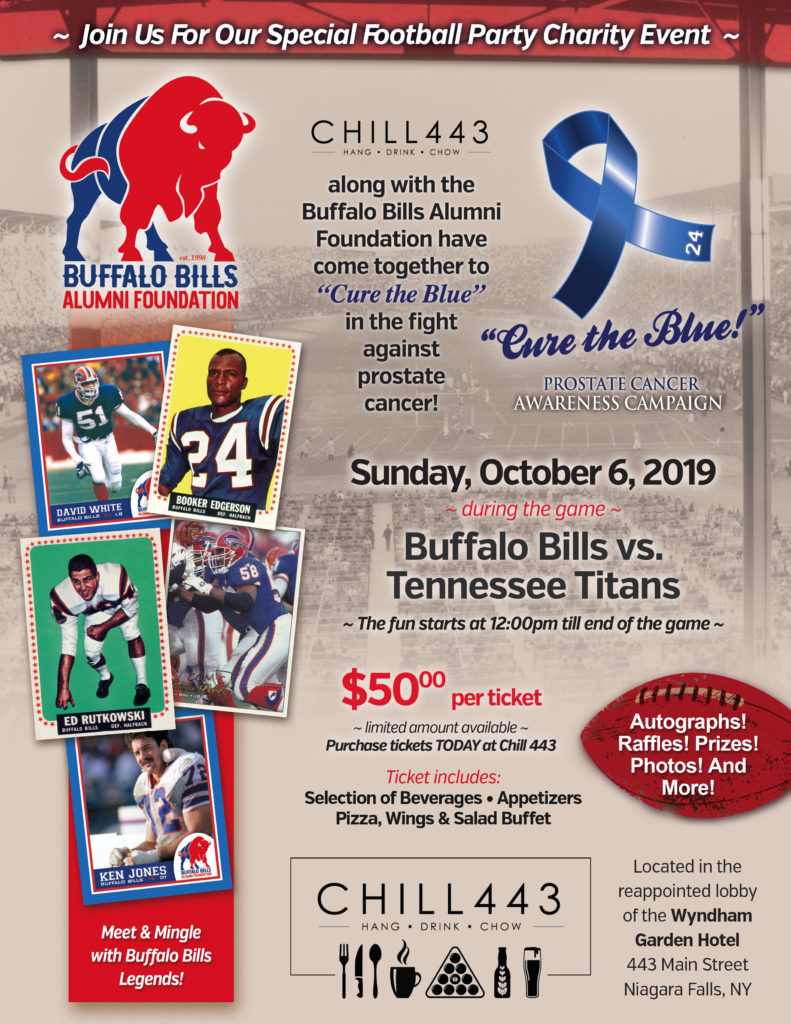 "We really want to do something special to support this outstanding prostate cancer awareness program that the Buffalo Bills Alumni Foundation has been promoting and this fundraiser should be a lot of fun" explained Tom Sukmanowski, Culinary Director of Chill 443.
"Cure the Blue" is the name of the program sponsored by the Buffalo Bills Alumni Foundation that will allow anyone to participate in what is one of the greatest and most comprehensive efforts ever to help promote prostate cancer awareness, education and research in the state.
"Tom Sukmanowski and his staff are doing such an outstanding job in creating this event to bring attention to this dreaded disease", said Bills Alumni Booker Edgerson
Nine former Buffalo Bills, including Booker Edgerson, Lou Piccone, Ken Jones, Ed Rutkowski, Will Fowler, Bob Dugan, Charley Ferguson, David White and Bob Schmidt are scheduled to be at the event to mingle with the guests, sign autographs, take photos and watch the Bills crush the Titans.
There will be great food, drinks, raffles, drawings and more throughout the entire game. The fun starts at 12pm and goes till the end of the game. The event is open to the general public. Tickets are $50 and can be purchased at Chill 443 or by calling 716-284-2501.
"We really want to encourage all Bills fans to come out and party with us and support this great cause at this fabulous venue" add Edgerson.
"I have had a goal for quite a few years to promote Prostate Cancer Awareness, especially to minority males. In 1996, I was diagnosed and treated for this disease" explained Edgerson, a two time prostate cancer survivor.
Prostate Cancer is the most common malignancy in American men and the second most leading cause of deaths from cancer, after lung cancer.
"We want everyone to know that the Buffalo Bills Alumni Foundation is going to make every effort to engage any business, organization or individual who wants to help out, as together we bring awareness and financial support for Prostate Cancer" said Edgerson.
To donate please go to our website; www.curetheblue.com.
The Buffalo Bills Alumni Foundation is a 501 ( c ) 3 organization and all donations are tax deductible.
The Buffalo Bills Alumni Foundation was founded in 1999 and is comprised of past Bills players that have left an imprint on society during their football careers and want to continue molding society in a positive manner. Not only have they changed the game, but they have touched and shaped Buffalo as we know it today.